Lexington High School Singing Valentines Go Virtual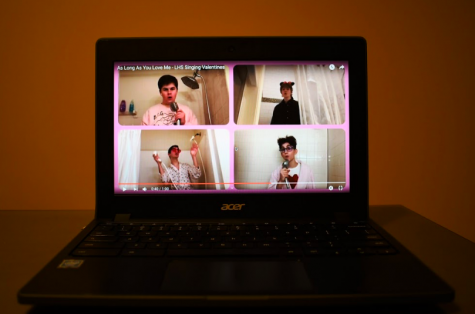 On Feb.12, Lexington High School's 'Tines Quartets live-streamed a compilation of Singing Valentines on YouTube and emailed individual Singing Valentines to designated recipients. Each Singing Valentine contained a personalized message and a link to an unlisted YouTube video of one of the 'Tines Quartets songs. 
This year, LHS's Tines Quartets decided to deliver the valentines free of charge so that students could send as many as they wanted. Live auditions for Singing Valentines occurred in January through Zoom, and groups were assigned based on the compatibility of the singers' voices. In previous years, the quartets visited classrooms during the school day to deliver valentines. This year, due to the pandemic, Singing Valentines were delivered remotely.
 Ben Borgers, a senior at LHS, developed a website from scratch containing a form to help LHS students send non-anonymous singing valentines. On the website, LHS students could submit an unlimited number of requests with customized messages. Senders could also choose from a mixed, female, or male singing group. Borgers collaborated with Kyuho Lee, a senior, who helped coordinate the Singing Valentines, to develop the form on the website.
 "The website is so convenient, and I know that has convinced me to send out tons of valentines to my friends. I hope that other people feel that way too," Sophie Sommers, a member of Singing Valentines, said.
Each of the 'Tines Quartets groups chose a few Valentine songs to arrange. Although they had selected songs from previous years' repertoires, the presentation was altered. Since each member had to record audio and video individually, some quartets struggled to blend voices. However, by virtually coordinating songs, donning matching outfits, and editing components together, quartets were ultimately able to produce videos they were content with. 
 "In general, I've had to do a lot of recording, and listening to my own voice admittedly is not my favorite part of the process, but it's something that you start to get used to. On the bright side, however, there is a lot of room to make recordings sound the way you want," Sommers said. Throughout the year, she has accumulated hundreds of recordings on her voice memos app. 
Ultimately, the singers hope that Singing Valentines spread joy to LHS students.
"We just really want everyone to use 'Tines as a positive way to make people feel good at LHS, so the non-anonymity of the valentines is just a way to make sure that people are being genuine when they are sending," Sommers said. "While having a secret admirer would definitely be cool, it's also really nice as a recipient to know who has been thinking of you so you can just appreciate the person that much more." 
 "The singing valentine [I received] was heartwarming and cheered me up for the day," Sophia Zhang, a LHS freshman, said. "I think that they help the LHS community because they show the appreciation we have for each other—that being romantic or not."
The compilation of Singing Valentines is available on YouTube under the LHS A Cappella channel.
 "I love how the video is available to anybody so that everyone will be able to receive the valentine that they deserve," Sommers said. 
Although Singing Valentines could not be delivered as they normally would this year, the 'Tines Quartets were still able to have fun and spread joy amid difficult times. 
"It is just so important that we can keep up this tradition," Sommers said.